Your Child's Behaviour Patterns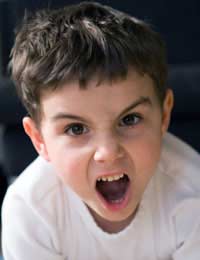 The pattern of your child's behaviour will inevitably change over time and even on a daily or hourly basis at times, and it is important to recognise that this is completely normal and can be a result of a wide range of events and situations.
There are other features on this website that will explain how we should react and respond to a child's changing behaviour, how to cope with those changes and why you may find your child's behaviour changing dramatically.
This feature has been written to try and help explain the fact that your child's behaviour will change and the effect that this can have on the way your parent them, as well as the effect on the rest of the family, school friends and in other social settings with friends and family.
The patterns of behaviour displayed by a child will have an impact on them and those around them. This is why it is so important to keep a close eye on their behaviour and monitor the way they cope in particular situations.By using the assertive democratic or authoritative style of parenting, we are able to observe our children's closely and be able to almost pinpoint when their behaviour may change as well as why. In this way we can soon adjust our parenting styles to ensure that we are meeting their needs correctly and appropriately for each situation.
Permissive parents who allow their children considerable freedom and flexibility to do and say as they wish, and consequently behave as they wish, have little interest or inclination in observing their child's behaviour in this way and could well end up being blissfully unaware of their regular patterns of behaviour, let alone of any changes or developments.
Overly strict parents on the other hand will be so much in control of their children that it any change, no matter how small, will soon be dealt with.
Parenting styles, as described by Diana Baumrind, exist to help give guidance to parents as to how to tackle their child's behaviour patterns, and are also used to identify why children's behavioural patterns do change and the effect that a particular parenting style can have on the way a child behaves.
Children who are subjected to a negative or neglectful parenting style may well experience changes in their behaviour but these are unlikely to be observed by their parents.
Children of all ages often find it very difficult to understand why their behaviour has changed, why they feel the way they do about a particular situation and how they can cope with it. This is why parents have to keep a close eye on their children and help them to unravel any emotional or physical issues that may be heavily impacting on the way they are behaving.
The behavioural patterns of children can be affected by a physical illness, changes at school, within the family unit, per group pressure and simply growing up and finding their feet. Assertive behaviour is often seen as being difficult by parents, but in reality our children are merely reacting to the fact that we have brought them up to be independent and confident.
Children who are allowed too much freedom may find themselves experiencing out of control behaviour patterns and suddenly being told off by their parents, whereas previously they have been permitted to do exactly as they please.
Children can be as confused and frustrated by the changes in their behavioural patterns as parents, it is important for parents to try and identify significant changes and deal with them appropriately.
You might also like...
charbel is a beautiful lady, is she a product of parenting? she is oftentimes very cruel on his peers, would you consider her behaviour abnormal?
JUJU
- 1-Mar-17 @ 6:20 AM
Freedom - Your Question:
Please I need advice on how to help a child who is suffering from fear and low self-esteem.
---
Our Response:
Please see our partner article on Growing Kids - Developing Self Esteem, link
here
. I hope this helps.
ParentingStyles
- 10-Aug-15 @ 2:52 PM
Please I need advice on how to help a child who is suffering from fear and low self-esteem.
Freedom
- 8-Aug-15 @ 4:04 PM