How to Cope With a Change in Your Child's Behaviour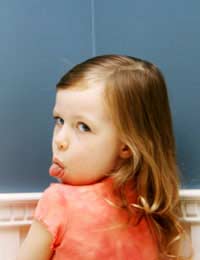 Every child in the world reacts and responds differently to different situations. Siblings within the same family will all cope differently with different changes in their lives and environment, and it is important that parents recognise this and put measures in place to help them cope with these changes that their children are experiencing.
Many adults, as well as children, do not cope well with change. Moving house, moving jobs or schools and settling into a new area and regime are all very stressful. A change in the structure of the family such as the loss of a parent or sibling, or a couple divorcing can all have a profound impact on children's lives and consequently their behaviour will change.
We will look closely at why children behave differently in another feature on this website, what is important is how we, as adults and parents, equip ourselves to cope with a sudden or gradual change in our children's behaviour and ensure that they are still made to feel loved, cared for, secure and that their feelings and emotions are considered as important, rather than an inconvenience.
Keep On Talking
Children are sensitive to change and they will demonstrate that sensitivity through changes in their behaviour, both good and bad! It is likely that changes will result in difficult or challenging behaviour trends and it is all too easy to simply snap at your children and tell them off, rather than taking the time and effort to analyse what is going on and look at what's happening in their lives that has prompted this change in the pattern of their behaviour.
Becoming aware of a behavioural change is half the battle, because once you have identified and accepted the fact that your child's behaviour has changed, you can try to manage the situation by finding a way of approaching your child and talking to them about what it is that has happened to create this change.
It's easy to be heavy handed in a situation like this, but conversely an approach that is almost too soft may not work either. Try to find a good time to have a conversation with your child, preferably away from friends and other family members, and try hard not to apportion blame. Children can be incredibly defensive and also feel awkward and embarrassed about their behaviour, and if this can be avoided it will really help the situation.
Try to find out where and when the problem began, and who is involved. Be gentle and understanding and try to find out as much as you can without really invading your child's privacy. With younger children this may be easier, with teenagers it could very easily turn into a full blown slanging match!
Keep Your Cool!
A highly charged emotional conversation will not necessarily help, and it's important for parents to try and keep calm and be rational and reasonable. Be led by your child and when they have had enough, stop. If you persist with questions and interrogations you may well push them away. Instead, just try to make it clear that you love them, you care about them and you want to help, but it's up to them to meet you half way and talk about the situation.
It may, of course, be obvious to you what the problem is and if it is closer to home and involves the loss of a parent or the end of a marriage or relationship and changes to the structure of the family you do need to talk it though as a family.
Moving Forward
Introducing new partners into a family unit and blending families together because of new relationships can be incredibly hard, and professional advice should be sought from organisations that are equipped to deal with these specific issues. Counselling is available from experts who deal with bereavement, blended families and other issues and it is worth considering this as an option to help you, your children and your family to move forward.
You might also like...
How can I know about the child's behavior
Mantha
- 23-May-21 @ 10:20 PM