Talking and Listening to Your Child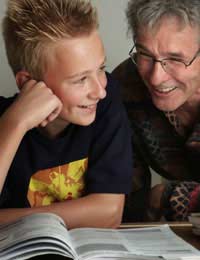 From an early age we encourage our children to listen to us when we talk to them. Whether we are giving them instructions, telling them a story, explaining how and why something has happened or how something works, or disciplining them.
Listening skills are important and should be nurtured from an early age, along with our ability to be able to talk to our children in a way that they can understand and take notice of. These skills should continue to be developed as our children grow, and in turn parents should also make sure that they listen carefully when children talk to them.
Life Can Be Stressful
Sometimes life gets stressful and things like work, problems and worries get in the way of simple things such as having a chat with your child. Without regular communication, it is all too easy for us to unknowingly disregard a lot of what our children say to us.
How many times have you said "just a minute" to your child or "I just must do this first..."? Sometimes it genuinely is not the right time to be having a particular conversation and often it is better to wait and make some proper time to discuss things in detail. This way you can give your child the time they need and deserve so that they can share their story with you-whatever it may be!
Share Your News
A great way to keep up to date with your child and have a good chat is in the car on the way to and from school or college. If they have worries or concerns about the day ahead or want to share exciting news with you then this is the ideal opportunity as you can give them pretty much all your undivided attention.
Show An Interest
Trying to find out exactly what your child did at school can be a major task of investigation! Many children can tell you what they had for lunch but can't remember much about any other part of their day! Try to engage them in conversation on the way home from school, or a couple of times a week go out for after school coffee to a local cafe. This way they have a good opportunity to chat and you have the time to listen to what they have to say, give advice, congratulate, commiserate and show a big interest in their day.
Make Time For Chats
Making time to listen and talk with your child is really important and should be something that you do naturally. However, with busy lives and most parents working at least part time, it is often something that just gets forgotten. By taking time to make a definite space in your weekly schedule for a proper catch up you can stop feeling guilty and your child will know that you are interested in what they have to say.
It is important that our children feel valued and that their concerns and conversations can be validated by you making time to talk to them properly. Family meal times are another really good opportunity for catching up. Modern families with busy schedules often consider meal times to be little more than an inconvenience, and research has shown that fewer families than ever are actually sitting down to eat together on a regular basis.
Catch Up At Meal Times
This is something that you could try to address in your own family as preparing, cooking and eating a meal as a family is a great time to chat and catch up with each other. Divide up the jobs so that even the youngest child can have an input into making the meal and then all sit down and enjoy an unhurried evening meal together, giving everyone the chance to catch up properly.
Sit, Talk And Listen
Having this family time together may not be possible every night of the week because of after school commitments, but try and plan to do it two or three times a week. This way you and your children will know that there will always be an opportunity for sitting together, talking and listening.
You might also like...
What can I do to help a child develop active listening skills?
FATS
- 16-Nov-12 @ 2:15 PM