Why Your Child's Behaviour may Change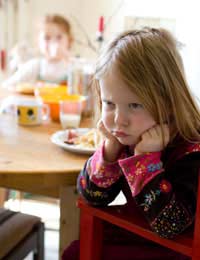 Children are sensitive to change, and will demonstrate their delight or despair at a situation or circumstance through their behaviour.
As adults, we have the ability to vocalise our concerns and understand why we feel the way we do, children find this level of emotional intelligence very difficult to fathom and instead of talking rationally and being able to reason things out, their behaviour is affected.
Different behaviour
Children behave differently for a wide variety of reasons, but the most common and those that can cause the most marked change in behaviour are listed here:
Moving house
Changing schools
The arrival of a new baby in the house
Parents splitting up
Introduction of new partners and their children
Bereavement following the death of a parent/sibling/relative or friend
Problems at schools such as bullying and peer pressure
Problems at school concerning their learning and academic ability
Getting into trouble at school, and problems within their own social network
Relationships with friends
Losing something that is precious to them such as a favourite toy
Being physically unwell-often behaviour starts to get worse as they get better!
A serious problem involving criminal activity of some sort
Understand That Change Will Affect Your Children
These are just examples of some of the situations that can lead to a significant change in the way that your child is behaving. It is important to understand that although you may not consider moving house and having to make new friends to be a particularly big deal, your teenage son or daughter will see things very differently. Think back to when you were their age and try to remember how important your friends were to you then. Leaving people behind whom your child may have known since preschool is bound to be disruptive and upsetting for them.
Strategies And Plans
If this is something that you are experiencing then there are ways to put strategies in place before moving day that can soften the blow. Explain that change is scary but can also be very exciting and that life is an adventure to be lived to the full. This may not wash immediately of course, but make it clear that their friends can come and stay and that there are also ways to keep in touch regularly such as social networking websites, email and mobile phones.
Try to accommodate your child's needs at every stage of the change because this way you can keep a close eye on how they are reacting and responding to everything. If they are missing a particular friend try and arrange for a weekend visit as soon as possible so that they have something to look forward to.
Security And Familiarity
Younger children will be sad and upset about simple things such as losing their favourite toy. Many children have strong and enduring attachments to everything from a tatty old blanket to a favourite, special teddy! These things represent security and familiarity and are comforters for them if they feel tired, worried, anxious, upset or poorly. Losing such an important object is bound to cause upset and alter their behaviour, but the inevitable will happen and that tatty eared toy is bound to get left on a bus before long!
Listen To Their Concerns
Planning ahead sounds like a great idea and is something that as parents we all try to aspire to but if you can, do try and keep an identical toy/blanket/object in reserve-just in case the worse happens. For the sake of a few pounds it is surely worth having a back up teddy in the cupboard to step in when the going gets tough!
By keeping an eye on your child's changing behaviour, listening to their concerns and trying to help them you will be able to understand why their behaviour is changing and help them to cope with it.
You might also like...