Seeking Professional Advice as a Parent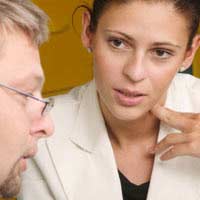 A lot of professional help exists to support parents at every stage of their parenting journey. Whether you are worried about your child being bullied at school, not eating properly, sleeping or other developmental issues, or if you think you are not coping very well with being a parent, there is plenty of assistance out there.
If you really feel you can't talk to anyone else, or you have moved to a new area and you really don't know anyone yet, a good starting point is your local GP or health centre. They will be able to give you some advice and put you in touch with relevant people who can help you with different areas of your life.
For example you may be finding it difficult to cope with bringing up your children on your own, you may need advice on going back to work, managing your finances, looking after your health, and so on.
Professional counsellors, coaches and advisors are all experienced, highly trained individuals who have a detailed understanding of the problems that you are facing. They will not judge you or force you to make a decision about any of the difficulties you might be dealing with, but they will give you the opportunity to talk about everything that is worrying you.
Keep Talking
Sometimes, the thought of talking about your feelings and worries to a complete stranger can be daunting and overwhelming as well as very uncomfortable. Talking to counsellors and therapists about things will mean that they do ask you questions that you might struggle to answer. It's important to be as honest and open as you possibly can. Their role is to guide you through a difficult time in your life and try and find you some solutions that will really help you in the future. It is not their job to solve all your problems for you-they will simply equip you with tools that can help you to manage your life.
Therapists, counsellors, life coaches and advisors all have your interests at heart. Lots of free help is available, and the best place to start is your local health centre or GP.
If you do decide to seek professional help, do not expect miracles to happen overnight. Having counselling is a process that can take some time, but by taking this first step, you will begin to re build your life. Talking to a complete stranger about your inner most thoughts and feelings is not easy for everyone. However, many people find it easier to talk to complete strangers than to their friends and family.
When you find the counsellor that is right for you make an appointment and stick to it. You will probably be encouraged to have weekly meetings with your counsellor so put the date in your diary and make it part of your routine.
Although it sounds scary, having counselling can be an essential part of your health and wellbeing, and lots of people have asked for professional help. Celebrities are always happy to reveal the fact that they are seeing a therapist, so there is no reason for you to feel uncomfortable about it.
Becoming a parent is a shock, and your life will change quickly and dramatically. Asking for help and support from your friends and family, and from a professional, is not a sign of weakness, but just means you need an extra bit of help and advice to deal with the challenges that parenting presents.
You might also like...