Your Health and Wellbeing as a Parent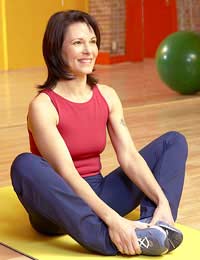 Parenting is hard work there is no doubt about it. This is compounded if you are trying to juggle work, running a home, managing finances and bringing up your children.
It is very easy to neglect your own needs when you have so many other things to think about, and you can only keep running at full capacity for so long before you collapse in a heap.
Time For Yourself
Even something as simple as sitting down with your family and enjoying a relaxing meal will make you feel better, and is a good way to end the day, giving everyone a chance to forget about school and work and catch up.
It is really important to try and take care of yourself, and even though you may feel that there is simply no time for you in your daily schedule there are lots of ways to improve your health and wellbeing.
Out And About
Building in some time for exercise, even if it is just a walk around the block at lunchtime to get some fresh air, can make you feel better and more focused. Try and maintain contact with your friends and the activity you enjoy-if you are a new parent, just think about scaling things back for a while until you have a routine in place that can support this.
Get Some Sleep
Getting a good night's sleep sounds simple, but with very young children this can be almost impossible. You may find that you occasionally need to have some really early nights to recuperate.
Exercise
Exercise may well be the last thing on your mind, but there is no need to find the idea of a brisk 20 minute walk, or a half hour swim at lunchtime daunting. We all know that regular exercise makes us feel better, and is good for our overall wellbeing.
A Family Affair
Soon you will find that you don't even notice you are exercising, and walks in the park with babies in pushchairs and, bike rides with the children will help all of you to stay healthy, as well as being a fun way to spend time together.
Diet And Nutrition
A busy and challenging life can leave little or no time for spending hours in the kitchen every day creating gourmet cuisine from scratch. However, coming up with well balanced, nutritious and tasty meals for you and your family need not have to a chore, and with some planning and delegation cooking can be healthy and fun.
Be wary not to forget yourself when feeding the family. Investing all your time and energy in cooking for your children whilst neglecting your own needs will not help you in the long run.
Always try and have breakfast, and encourage your children to do the same. If your children have packed lunches for school, try and pack them the night before to avoid a stressful morning that could lead to a missed breakfast. Make sure they are well balanced as well as varied, so your children don't get bored.
Dealing With Stress
Stress is an almost unavoidable symptom of parenting! Some people seem to thrive on it, while others find it incredibly difficult to manage and eventually it can spiral out of control.
Physical activity of any sort can reduce stress levels, so try and make time to do this regularlyTry and eat well, stress can lead to depression which can lead to comfort eating and drinking. You will only feel worse if you don't take care of yourself.
Relaxation
Finding time to really relax can be a challenge in itself, and if trying to take time off is making you stressed have a re-think. You may find that you need to teach yourself how to do it, as everyone has a different way of relaxing.
Meditation, yoga and prayer are often seen as traditional ways of relaxing, but if watching your favourite TV show, shopping with your girlfriends or settling down with a good book are more your thing, then that is fine.
Relaxing and taking time off from your daily routine is not only good for you, but will also benefit your children.
Eat and sleep well, get fresh air and exercise and socialise with your friends as these are all important elements of taking care of your health and wellbeing. If you are worried, concerned or anxious then talk to your friends-they may not be able to solve all your problems, but having a network of people around you who you can truly trust and rely on goes a long way to helping you see clearly and find a way through any problems or difficulties.
You might also like...