Your Parenting: Friends and Family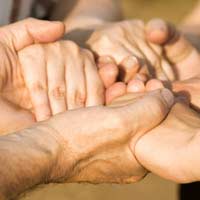 Your friends and family will probably become even more important to you once you become a parent, but they may also try to organise you and tell you what to do, and it may be very difficult for you to cope with! Although they have the best of intentions, they may lose it in the delivery so be aware of this and try to be gracious - even if they are driving you to distraction - it's generally speaking only because they care, honest!
Changing Times
If your domestic situation has just changed and you have become a single parent, it's a good idea for your children to continue to have as much contact as possible with your family, so they recognise that although their life at home has changed their relatives are still there and they can still spend time with them when they want to.
Make it a rule though, right from the beginning, that whatever the circumstances of your single parent status, it is not a good idea to discuss an absent parent with the children - unless they want to.
It is always best to be led by children when it comes to discussing feelings and emotions about any aspect of parenting, and if you ask your family to respect your wishes there is no reason to suspect they won't.
Ready Made Support
Friends and family can be a fantastic ready made support network, but remember that they also know you very well and will feel that they can be very honest and that you won't mind. Chances are, there will be days when you do so you need to make it clear to them that you value their support, but that you also know what's best for you and your children.
It's important to have people around you who can help, support and advise you when necessary, try to eliminate anyone who is negative, critical or just needy - life as a parent is hard enough, you don't need to make it any harder!
Don't pretend that everything is fine when it clearly isn't. If you can't rely on your closest friends and family at a time when you really need support then who can you turn to? Stay in control - sitting around all day with a bunch of people who just breed negativity is not productive. If people want to see you then ask them to ring before they call round.
If you get on well with your family and your children have a good relationship with them, encourage them to have as much contact as possible. Don't forget about your children's friends as well. They need support, help and distraction as much as you do and their friends are important too.
Extended Families
Your friends and family will be an important and big part of your life, and it is fantastic for your children to have people around them who can love them, guide them and help to shape their future. It is also a great way to make sure you have a social life as you will either have a team of babysitters or an extended family who like to spend time with you and your children.
You might also like...