Handling Behavioural Changes: A Case Study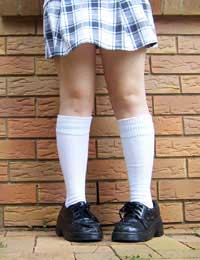 Parenting is a tricky business! Just as you think you've got it all sorted and you know exactly what you are doing, another challenge comes along to test the patience of even the most tolerant and flexible parent.
Change is to be Expected
We all want our children to grow and develop, and we know that with these changes will inevitably come a change in their behaviour, and this can happen for any number of reasons-all of which are perfectly valid. However, managing this behaviour can be very difficult and make you feel as though you are the only parent in the world trying to cope with changes in your child's behaviour.
You Are Not Alone!
Tracey found that her five-year-old's behaviour started to get very challenging when she started school. She said: "I was at a complete loss as to what to do with her! Lucy went from being a lovely, normal child to a monster! She was never an angel and no child is perfect but we were really stumped by this sudden change."
Out of Character
"Lucy started to become aggressive towards her younger brother and started acting out of character. It transpired that she was being picked on at school and also disliked the school dinners. These two changes in Lucy's life had a profound effect on her behaviour and were eventually resolved with the support of the school."
Communication is Important
Tracey added: "I think you have to be very careful not to get angry with children when their behaviour changes. Things happen to them at every age and school can be a tough place to be for a very young child who doesn't have a lot of confidence. Lucy was finding it hard and really didn't like the school dinners either. She wasn't eating at lunch time and therefore by the time she got home from school Lucy was starving and miserable."
Patterns of Behaviour
"We eventually picked up what was going on and asked for a meeting with the school to discuss what to do. They had already noticed Lucy was not herself and there had been a big change in her behaviour at school. She had settled so well initially that we were all worried."
Help From the School
Tracey added that the school were very supportive and agreed that Lucy was being picked on by some older children. They were reprimanded and their parents were also informed about what had been happening.
"We swapped from school lunches to packed lunches so that Lucy could choose exactly what she wanted to eat every day and giving her a bit of ownership made a big difference. She looks forward to school again now and is much happier. She always eats her lunch so when she gets back just after 3pm she is a different child."
Nobody's Perfect!
"Lucy still gets into fights with her brother and can be tricky just like all children, but at least we managed to work out what was wrong and found a solution. I would advise all parents in this situation to talk to the school and sort it out as soon as you can. Otherwise these things just get out of hand and then your child ends up being miserable AND difficult to cope with."
You might also like...