Handling Behaviour at Mealtimes: A Case Study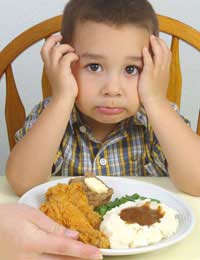 Picky eating, tantrums, wanting to get down from the table, poor table manners? Does this sound like a typical evening around your dinner table? Well if it does, take heart because you are not alone. Mealtimes can be a stressful and worrying time for parents and for one family the solution to this problem was not an easy one to find.
Dreading Mealtimes
With four children to feed and a busy schedule, Nicky and Jack began to almost dread mealtimes. Jack said: "I am from a big family and we were a farming family so you can imagine how our mealtimes were! We all sat together around a huge farmhouse table and all had to help prepare the meal, serve it and clear up afterwards. If we refused our food that was it-there was nothing else!"
Busy Family
"Things are not quite that simple in our family! We have three girls and a boy and although they are pretty good most of the time, mealtimes have become quite stressful.
The two oldest girls have decided that they have gone off pretty much every meal that Nicky cooks for them and that is having a knock on effect on the rest of the family. Our youngest daughter in particular is being really difficult at the moment and has started to refuse her food."
Worrying Behaviour
Luckily their oldest child was unaffected by this behaviour, but Nicky was concerned. She said: "In the end, mealtimes became so stressful that we were having arguments, tantrums and the kids were even getting up and leaving the table. Our youngest child was getting upset and it was a disaster. I am a very traditional person and mealtimes are important, family times for me. The whole thing was getting so upsetting."
School Lunches
All four children have school lunches and so Nicky contacted the school to see how they were behaving at mealtimes away from home. She said: "The oldest two girls aged 13 and 11 were eating hardly anything, but the others were fine. I became even more concerned and had to find a way to tackle them about it.
I decided to take the girls out for a shopping trip after school one afternoon and let them choose a treat from their favourite shop. Then we went for coffee and cake and then I found out what was going on. Basically I hadn't even realised that my two daughters were on the way to developing an eating disorder. They had decided that they needed to be thinner and that was why they were refusing their food."
Advice From Professional
Nicky was upset but contacted her GP and health visitor and took advice. They put her in touch with a dietician and nutritionist who confirmed that her daughters were both healthy, not at all over weight and certainly did not need to lose any weight.
Outside Influences
Nicky added: "It was a worrying time, but our GP was excellent and gave me lots of advice and we came back armed with leaflets and information that was really helpful. I had a good chat with the girls about why they had stopped eating and realised that they had been influenced by pictures in teenage magazines of very thin girls. We talked and talked about it and then decided a good way forward would be for the girls to help plan the family meals and come shopping with me, this way they can take responsibility for the cooking and they will understand exactly what goes into our meals and that we do eat healthy, well balanced meals that are good for them and won't make them put on weight."
Communicate and Understand
"It has been worrying but with professional help and by communicating with the girls I think we have found a solution. They have started to grow out of this phase and thankfully are now eating normally again. Mealtimes are now relatively stress free and we are eating well and getting on fine. It took a while to sort out but we got there in the end."
You might also like...