Parents of Pre School Children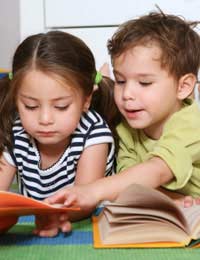 Many parents choose to find places for their preschool children in nurseries, playgroups or pre schools; others have no choice but to use these settings because they work either full time or part time.
Either way, securing a place for your child at a nursery before they start school will help them to learn some essential social skills, enable them to mix with other children, develop their basic numeracy and literacy skills and get used to spending periods of time away from their home.
Change In Behaviour
If your child has not been regularly exposed to things such as toddler groups and other preschool environments like music and dance groups, you may find that when you first leave your child in a nursery you experience a marked change in their behaviour.
Obviously, even if your child is used to being away from you, a change in environment is bound to be upsetting and confusing and your child may demonstrate their worries and anxieties about such a change with challenging and difficult behaviour.
It is not easy to be prepared for every eventuality, and every day really is different with all children, but knowing that your child will be cared for in a different place is something that you can plan for and manage effectively.
Get To Know Each Other
Make sure that you take advantage of any visits or open days as these really help to familiarise you and your child with their new nursery or preschool, and orientation visits are always offered by preschool settings to help children find their way around and to give you all a chance to get to know each other.
Children worry about things like where the toilets are, where to hang their coats and what they will have for break time snack (and if they are going to like it!). They might have some friends who are starting at the same time and be worried that they won't be able to sit next to each other, or be concerned about leaving their comfort blanket behind.
Positive Parenting
All of these things can be addressed with some really positive and pro active parenting in advance of your child starting at their new preschool so that when their first day arrives you are prepared for the inevitable fallout!
Be very positive and gentle with your child and be careful not to be too over enthusiastic about their first day as this will draw a lot of attention to the change in circumstances. It is better to be as calm and normal as possible and even use distraction techniques to keep your child's mind occupied.
Prepare For Change
Leaving your child in a new environment can be upsetting for both of you and again you need to prepare for a few tears and a child who may potentially be clinging to your leg as you try to leave to go to work. Moments like this are very distressing for both parents and children and do not get your day off to a good start at all. A little upset is inevitable, very usual and something that the staff will be highly skilled at dealing with but an episode like this is something that you can prepare for.
Ensuring that your child feels secure and knows that you are going to be coming back soon is very important and that is why it is really useful to begin leaving your child with other people when they are young.
Rest assured that the minute you leave your child they will soon calm down and have a lovely time and when you collect them they will be delighted to see you. In the early days your child will be very tired and so a proper routine for tea time, bath and bed time will be crucial.
Relaxing Bedtime
Instead of this being rushed and stressful, this quiet time is an ideal opportunity for you to talk about your day and have lots of cuddles and reassurances ready for the morning-when you will do it all over again!
You might also like...