Parents of Babies and Toddlers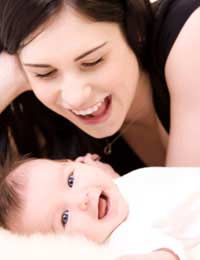 Babies turn your world upside down overnight! Every new parent will have experienced the baby shock effect that these precious little bundles have on their lives, and suffice to say things are never quite the same again once a new addition arrives!
Anxieties And Worries
The baby stage is fraught with worry, anxiety and for the most part, and for many parents, learning as you go along. Things that you said you would never dream of doing with YOUR baby (having seen other parents do it!) are suddenly forgotten when you realise that actually there is method in the madness sometimes!
This is where your parenting journey begins, and at first your life may well be dominated by nappy changing, feeding and sleepless nights, but before you know it your little newborn baby will be teething, sitting up, going on to solid foods, smiling, gurgling and laughing and generally turning into a proper little person.
Development And Growth
With this growth and development comes walking, talking and tantrums and that is why it is important that you get your house well and truly in order before the next stage of your baby's development really kicks in.
It's a good idea to have clear ideas about what you consider to be acceptable and unacceptable behaviour. Obviously things change and you will experience new and different parenting styles and methods that will suit different stages of your child's development, but even in those early baby days you will find things easier in the long term if you put some kind of rules in place now.
Getting Used To Other People
For example, it's a good idea to get your baby used to being held and fed by other people. This is not a way of shirking your responsibilities as a parent, but in fact a great way to get your baby used to other people so that if you do have to leave them with someone else for a while you will know they are in good hands, and your child will not feel insecure and suffer from separation anxiety to such a large extent.
Sleeping can be a stressful parenting topic, and if you do have a child who suffers from sleep problems there is a lot of expert, professional help available. Try not to be tempted into letting your child sleep in your bed on a regular basis because this really has been shown to be one of the hardest habits to break and can make your life very stressful.
By rewarding the positive behaviour that your baby and toddler displays, even from a very early age, you are setting boundaries for them for the rest of their lives. It is important to understand why your children behave the way they do and that they realise what is negative and what isn't.
Encourage Good Manners
Even a young child can be encouraged to understand the difference between right and wrong and should be encouraged to use good table manners, say please and thank you and learn how to share their toys and play with other children. These traits in their character will help to shape their personality and will help them enormously when they start to attend settings such as toddler groups, nurseries and preschool.
You might also like...