Parenting and Secondary School Age Children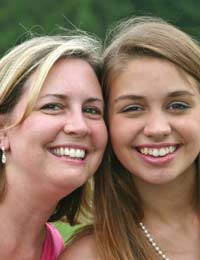 Anyone with a teenager in their house will known that almost overnight your sweet, amenable and basically controllable child has turned into some kind of pre pubescent moody monster!
Changes, Developments And Issues
Becoming a teenager brings with it all manner of changes, developments and issues that your child will not truly understand and you may also find very hard to get to grips with. At 13 years old, your child will already be settled well into secondary school and will probably have a good group of friends and an emerging social life based around after school clubs, the occasional teenage birthday party and weekend activities.
Social Lives
Be prepared to become little more than a taxi service for the next few years-particularly if you live in a rural area, as you will soon find your child will be getting invitations to attend all sorts of functions.
You may find that your child's social life is actually more exciting than yours for a while and it is important to let your teenager have friends and develop a social network.
Friendships Are Important
It's easy for us to forget that we were all teenagers once, and although times may have changed, the issues and worries that we had are still relevant to parenting teenagers today.
Among the most common problems that will cause teenagers concern are the following:
Physical changes to their bodies
Emotional changes
Peer pressure to try new things such as drinking and drug taking
The stress and pressure of important exams
Feeling that they are not being listened to or considered
Having irrational mood swings
Wanting to spend as little time as possible at home with their family, preferring instead to be with their friends.
It is very easy to misunderstand teenagers and get extremely angry with them when in actual fact they probably cannot really understand what it is that is making their behaviour change in the first place. It is a time of extreme change for them and so try to take time to understand how they must be feeling and that it is a time of great confusion for them as well!
Young Adults
Teenagers expect to be treated like adults and this can present problems if there are younger siblings in the family. Suddenly bedtimes have to be adjusted, and your teenage child will expect a lot more freedom and flexibility than you might have previously allowed.
As well as being allowed to stay out later, go to bed later and just generally do more than their younger brothers and sisters, teenagers will be able to watch different television programmes, will want to spend more time alone and may be less inclined to help around the house.
Stick To The Rules!
Being a member of a family is like being part of a team, and for this reason everyone in the household should accept that they have certain responsibilities (if you have decided to opt for this style of parenting). Just because a teenager is having a tough time coping with the changes they are going through, does not automatically entitle them to sit in their room all day listening to loud music and talking on their mobiles!
They should still be actively encouraged to be a part of the family by getting involved in the daily responsibilities and chores and by spending time with you at meal times and weekends. It is difficult to encourage a lot of teenagers to behave like this, and when the arguments start and the doors are being slammed, it is all too easy to give in and just let them spend time alone.
Growing Up Can Be Isolating
If at all possible try to continue to include your teenager in everything that happens in the house, and incentivise tasks by offering lists, extra financial allowances and other benefits that really appeal to young people. This way you can keep your family together and watch your children grow and blossom into young adults without too much stress!
You might also like...
HI, These resources are great. Please may I use some of this info to hand out to parents at my school? Thankyou