Parenting Styles and Diana Baumrind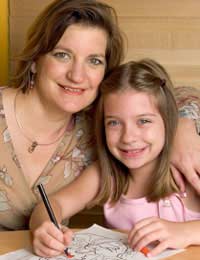 Since at least the 1920's, leading experts in health and psychology have had a huge fascination and interest in the way that children behave, and the way that their behaviour is connected to the way their parents bring them up.
Diana Baumrind is still highly regarded as the leading expert in parenting and was responsible for pioneering the idea that different parents bring up their children in different ways and adopt one of three or four differing parenting styles.
How Our Children Grow
Parenting in general terms, is what defines how our children behave in different situations, respond and react to different scenarios and ultimately the kind of adults that they grow into. Most parenting revolves around trying to exert some level of control over our children, to make our lives as easy as possible and also to create a harmonious family environment.
Baumrind's Research
Diana Baumrind's research revealed that they way children are brought up has a massive impact on how they cope at school, in social situations and even when they enter university or college and the workplace as young adults.
The basic job of any parent is to make sure that their children grow into responsible, well behaved and sociable young adults who are aware of boundaries, know the difference between right and wrong and are able to control and understand their emotions appropriately in different situations.
Observations
The basic parenting styles that Baumrind identified are all variations on a theme. Some of her research also identifies neglectful parenting but, obviously, this is not a style of parenting that would be used as an example to follow, but an observation on the way that some children are subjected to unacceptable neglect and disregard by their parents.
Demandingness And Responsiveness
Parenting essentially falls into two categories and these are known as Demandingness and Responsiveness. These elements describe the kind of reaction that parents can be expected to have based on the behaviour of their children.
These two labels can then be used to categories the kind of parenting style of individuals, and those parenting styles are
Authoritarian: Strict, old fashioned and not at all flexible
Permissive (also known as the indulgent parenting style): Too laid back in most cases and children often suffer from a lack of boundaries
Authoritative: Assertive and responsive parents, the most well balanced approach to parenting in general
Neglectful or dismissive: Exert little care or consideration for their children
The parenting styles are also influenced by certain psychological issues by making children feeling guilty, isolated, withdrawal of loving behaviour or by children being made to feel ashamed and humiliated by their behaviour.
Psychology
A major difference between authoritarian and authoritative parenting concerns psychology. Although authoritarian and authoritative parents both put high demands on their children and expect good behaviour. Authoritarian parents, also expect their children to accept their decisions without questioning them. However, authoritative parents are more open to a bit of give and take with their children.
Research has shown that parenting styles do have a direct effect and influence on the behaviour, general well being and development of children in the following contexts:
Behaviourally
Socially
Academic achievements
Career/work progression
Self esteem/confidence
Children who are raised by authoritative parenting measures tend to have high self esteem, where as children whose parents are neglectful tend not to thrive or develop at the same rate. Those from authoritarian families perform reasonably well at school but often have lower social skills, lower self esteem and often high levels of depression. Those who are from permissive or indulgent homes can suffer because they can't cope with the school environment as well, but often have better self esteem and cope well in some social situations where boundaries are not required.
You might also like...